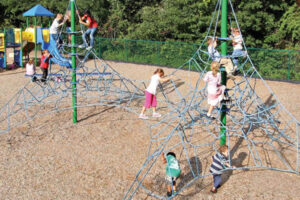 Have you ever noticed, which is the happiest time for your kids during the day? Well, it's the time when they're with their friends in the playground. They share all sorts of talks while hopping and climbing on their favourite equipment. Hovering around this equipment, lets them forget all their worries. For them, playground equipment is just like another means of entertainment. But the fact is, they get to learn a lot by using equipment installed in the playground.
As a parent, you must encourage your child to use more and more equipment as there are numerous benefits attached to this. These outdoor play towers are absolutely safe and you need to trust your child to use it well. In this blog, we'll get to see the different kinds of equipment and also the benefits they offer for your kid. Let's read them.
Types of playground equipment 
This is the most common of all, but the most favourite too among the kids. They are called so because kids like to hang on them as apes do in the forests. They are fixed in one place, so they offer some kind of challenge to the kids. As the child moves from one bar to another, they learn to maintain balance. These complex structures let the child build skills and gives them a sense of achievement.
There can be various types of climbing equipment available in the market. There can be geometrical designs or dome-shaped structures to climb for the children. At times, climbing nests are also involved. All such equipment is absolutely safe and provides some sort of adventure to the kids.
This one's popular across all age groups. From toddlers to teenagers, all love to sit on the swings and oscillate like a pendulum. These swings have a fastening belt attached to them, that doesn't let the kids fall down. Slides made of plastic are colourful and attractive. Tunnel slides offer a kind of adventure to the kids.
This should be another add-on to the playground as the kids learn to balance themselves on the stones that have an uneven height. The motor skills and the dexterity of the child improve tremendously, as the child holds the rope tight in his hand.
With so much playground equipment around the kids, they surely propose lots of advantages too.
Benefits of playground equipment
Help in maintaining the fitness level
It's a well-known fact that the more kids exert their bodies, the more they put pressure on them, the stronger they become. That means their bodies remain fit as a fiddle. Physical activity has a direct impact on the brain. The neurons in the brain become active than before and that helps in increasing their concentration level. Outdoor play towers help their muscles become strong and invariably they learn hand-eye coordination too.
When kids play in groups, they develop a feeling of togetherness. They understand that it's the teamwork that they are doing and that there's no room for individual praise or criticism. This is a very important skill that the kids develop right from the age of childhood. This is something that they get to use for lifelong. Playing in groups helps them accept other people's opinions as well.
Develop deftness in actions
As the children play in sandpits, hold the bars stand on the beams, they develop dexterousness and bring finesse in their work. This also helps them hold pens, pencils, or other objects properly for their academic purpose.
This is one of the greatest attributes that the child develops by going outdoors. As your kid meets other kids coming from varied backgrounds, he learns to tackle them well. Kids learn to develop a problem-solving attitude learn to deal with difficult situations of life. There's no doubt that hankering around playground equipment and playing with friends there helps to prepare children for the rest of their life.
So, the next time your child seeks your permission to go out and play, don't stop him by citing any reason.