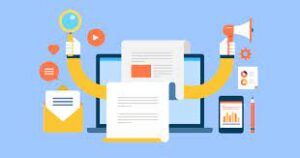 If we talk about content marketing, it is a unique and strategic approach of marketing in which the main focus is on creating and circulating relevant, engaging content to attract the target audience and to get customer's response.Content marketing is all about connecting with your customer through a potential content, the term content is comprises of media, videos, pictures, graphics and more elements. The more content is attractive more customers will get engaged.
It also plays an important role in retaining the current customers and gaining the new customers and also helps in creation of a good relationship with the customers as some user's starts following your content, whenever they need any tips or suggestions or want to gain knowledge about a particular subject, but it depends on the creativity and act of getting customers and user engaged. Let's go for an example, if you are a travel enthusiast and a blogger then many of users who love to travel will follow you and will be engaged with your content on travelling experiences, stories, photography and related stuff.
Now let's get into the ways to do effective content marketing-
1. Use specific keywords- In the era of digital marketing, the content should be so SEO friendly that it automatically reaches the target audience whenever they search related words on search engines.
2. Be accurate and confident what you write- Accuracy matters a lot in content marketing
because what you deliver is believed by your users and followers and if any mistakes occurs
then you may lose your users' traffic on your content.
3. Know your audience- When you are writing, keep your content relevant as if you are providing a solution to the customers' problems. Keep an idea of what kind of audience visits your site and what they actually look for.
4. Focus on quality over quantity- Always presume that your audience is interested in exciting content rather than a lengthy one , keeping the content interesting and short will help in engaging more customers.
5. Use engaging elements- Creative images, videos, stories, examples are the best ways to engage the audience in your content
So you can prefer these effective ways in content marketing but it does not end here many other ways are also like continuous improvement in writing skills, avoid copying, reviewing content performance with data etc.If you want to increase customer base then our specialized and influential content marketing approach will help you to create a strong and retained customer base.
*****************************************************************************************************