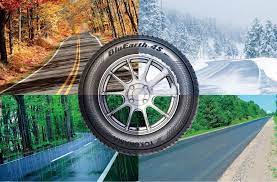 You know tyres are the foundation of your car.
The on-road safety depends a lot on how safe they are. Keeping them fully fit and roadworthy is the key to this safety.
More than anybody else, the onus is on you. This you can do by simply paying attention to your tyres.
Here is a checklist which if ignored, may bring trouble for you on the road. 
Air pressure: Tyres should be properly inflated. The air pressure in them tends to vary according to the season. In cold weather, the air shrinks, thus lowering the pressure. This causes the tyres to underinflate. In summer, on the other hand, the ambient heat causes the air to expand. This may overinflate the tyres.
This makes controlling the car a wee bit difficult. It also decreases fuel efficiency. Moreover, they may become prone to blowouts in the middle of a journey.
Tyres also tend to lose air over some time.
Check the air pressure once every month, using a pressure gauge. Keep it at the recommended level.
Tyre Tread: Remember the tread of your tyres Southampton is the first contact point with the road. Inspect them for how they are wearing out. You may notice the tread is thinning down on one side of the tyre.
If that is the case, look for the reasons. For instance,
tyres are not properly

inflated

,

there could be a problem with the car's

suspension

,

wheels are not properly

aligned

,

driving the car on sharp turns at high speed.   
An uneven tread could result from any of these reasons and more.
If you notice flat spots on the tread, the tyres have a problem. In that case, get the tyres checked by a specialist.
The tread thins down anyway over some time. This we call balding. Check this thinning with a tread depth gauge. The tread should be a minimum of 1.6 mm deep.
Better keep an eye on their tread, always.
Sidewalls: They are like pillars constructed to provide a body to the tyre. Their basic function is to transmit force from the ground to the vehicle through the wheel. They hold the air, which in turn helps them carry the load. They also provide lateral stability to the tyres.
Periodically inspect sidewalls for any sign of damage to them. See if they look cracked, split, cut and sliced.
Road hazards, overloading, improper inflation, abrasion, excessive exposure to heat may be behind such damages to sidewalls.
Also, look them for bulges and blisters. Their presence is a sure sign of internal damage to their body. This may threaten their structural integrity.
It's always better to replace them promptly.
Vibrations: Vibrations may be caused by mechanical snags like misaligned wheels or a bent rim. But it may also be due to damage to tyres. If you experience vibrations while driving, or hear an unusual noise, go to a professional. Replace the tyres if advised.
To sum up, your tyres are not roadworthy anymore if
they have gone bald below the recommended level

their sidewalls have any signs of serious damage.
It's high time you changed them. But it is not advisable to change them by one piece at a time. Replace the entire set.
It becomes all the more important when your OE-fitted tyres are well past their mileage warranty.
If you are going to replace them, why not go for another brand. However, if you're looking for a global brand with a long history of innovations behind it, Bridgestone Tyres fits the bill.
Bridgestone Tyres has a solid network of dealers and retailers to service all your needs with a pan-UK presence. 
They are available in your hometown Southampton as well. Given the weather conditions there, choose a type judiciously. Consult a garage specialist. Punch in some words like 'Bridgestone Tyres Southampton' on your mobile. The search will lead you to the right door. Schedule an appointment to avail a whole host of services.